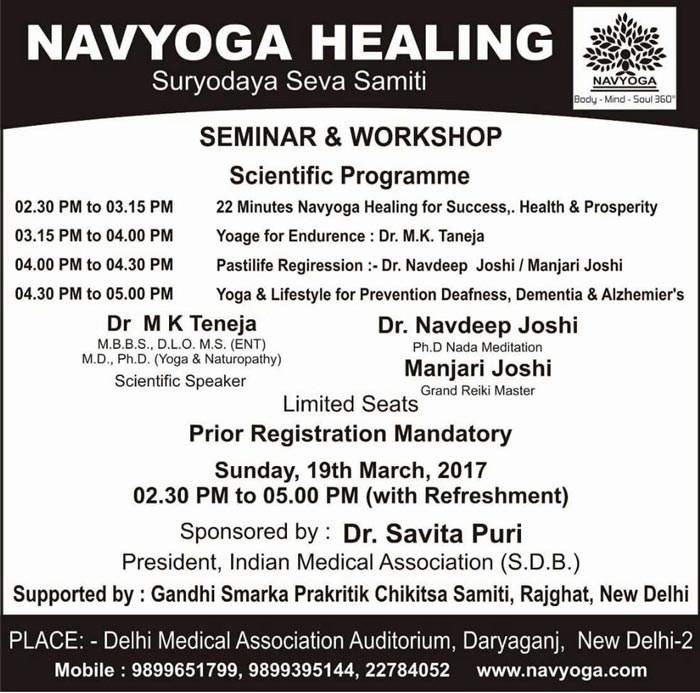 ---
Welcome to Nav Yoga & Reiki Healing
With a strong belief in "Vashudeva Kutumbakam" Dr Joshi, who was born in the centre of spiritual power, Himalaya region Manglaharanm (Tankpur) Uttarakhand, has been fully engaged in social work and spiritual programs. He completed B.Sc. from Kumaum University & Naturopathy from Lucknow University and successfully completed Ph.D. (Nada yog). Dr Navdeep Joshi has conducted numerous Nada Yog meditation workshops, yog Practical training sessions for groups and individuals, corporate yoga workshops in Delhi, N.C.R. and other states of India & Napal. He is also the founder of NADA Yog Meditation & Energitic Yoga (Power Yog), He started yoga studios and yoga centres and conducts workshops, group classes and private classes in New Delhi, N.C.R., Deharadoon, Haldwani, Ramnager, Mathura Khanna (PunJab). From Childhood He was chosen by his Yoga masters, he is disciple of Spiritual Guru Swami Satayanand Saraswati.
He knows very well – the various school of yoga – Patanjali yoga (Ashtanga Yoga), Hatha yog, Karma Yoga, Jnana yog, Bhakti Yoga, Kundalini Yoga and the various other techniques like Pranayama (Breathing Techniques), Asanas (Yoga Postures) Mudra , Bandha, Shatkarma and Dhyana (Meditation).
Along with this, he learnt related subjects such as Naturopathy, spa, Reflexology, Reiki, Sujok, Homeopathy for betterment of people and healing.
He has been visiting yoga Lecturer & Naturopath in Ghandhi Naturopathy Academy Rajghat, Amity University (Noida), Sushruta Ayurvedic Center, Hiranayagrabha Shodha Kendra. You have been Yog & Naturopathy Advisor in Pranav Urja , Bhartiya Dharoher, Shri Ma Sarda Seva Samiti, Pragati Pathic, Astro Vastu Yoga Research Organization & Independent National Sports and Health Association (INSHA).
He has Strong Belief in Traditional yoga but due to modern life style people are not able to do traditional yoga so by his practical experiments and research he found energetic yoga (Power Yoga) & Nada Yog meditation (Relaxation). By this powerful session people can improved immunity and energize the will power for better living & peaceful mind.
His yogic talks are being telecast by different T.V. channels like Sadhana, India News, Aaj Tak etc. His articles have been published in Danik Jagran, Bhartiya Dharohar etc.